Dear wonderful new Kindergarten families,
Thanks to those of you who were able to attend our annual evening of bedtime stories! Hope you had as much fun as we did! Couldn't make it? No worries! The  books we read are in the library collection and are available for checkout. 
We started the evening with Helen Docherty's The Snatchabook.
One dark, dark night in Burrow Down, a rabbit named Eliza Brown found a book and settled down...when a Snatchabook flew into town.
It's bedtime in the woods of Burrow Down, and all the animals are ready for their bedtime story. But books are mysteriously disappearing. Eliza Brown decides to stay awake and catch the book thief. It turns out to be a little creature called the Snatchabook who has no one to read him a bedtime story. All turns out well when the books are returned and the animals take turns reading bedtime stories to the Snatchabook.
Our next story of the evening was Yeti, Turn Out the Light! by Greg Long & Chris Edmondson.
All Yeti wants to do after a long day in the woods is to close his eyes and go to sleep. 
But something is not right! Shadows lurk, sounds creak, and there are monsters...or are there? This entertaining bedtime book featuring the fierce and frenetic GAMAGO Yeti will amuse and delight kids, all while encouraging them to turn out the light and go to sleep!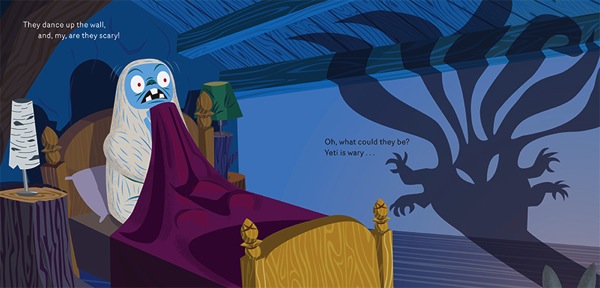 Our third and last story of the evening was Little Owl's Night, by Divya Srinivasan.
Hedgehog sniffs for mushrooms, Skunk nibbles at berries, Frog croaks, and Cricket sings. A full moon rises and Little Owl can't understand why anyone would want to miss it. Could the daytime be nearly as wonderful? Mama Owl begins to describe it to him, but as the sun comes up, Little Owl falls fast asleep.
Putting a twist on the bedtime book, 
Little Owl's Night
 is sure to comfort any child with a curiosity about the night.
Looking for other bedtime stories? Stop by the library and browse our collection, or try these recommendations:
Everyone Sleeps, by Marcellus Hall
Let's Sing a Song with the Brave Cowboy, by Jan Thomas
Good Night, Good Knight, by Shelley Moore Thomas
Can't You Sleep, Little Bear? by Martin Waddell